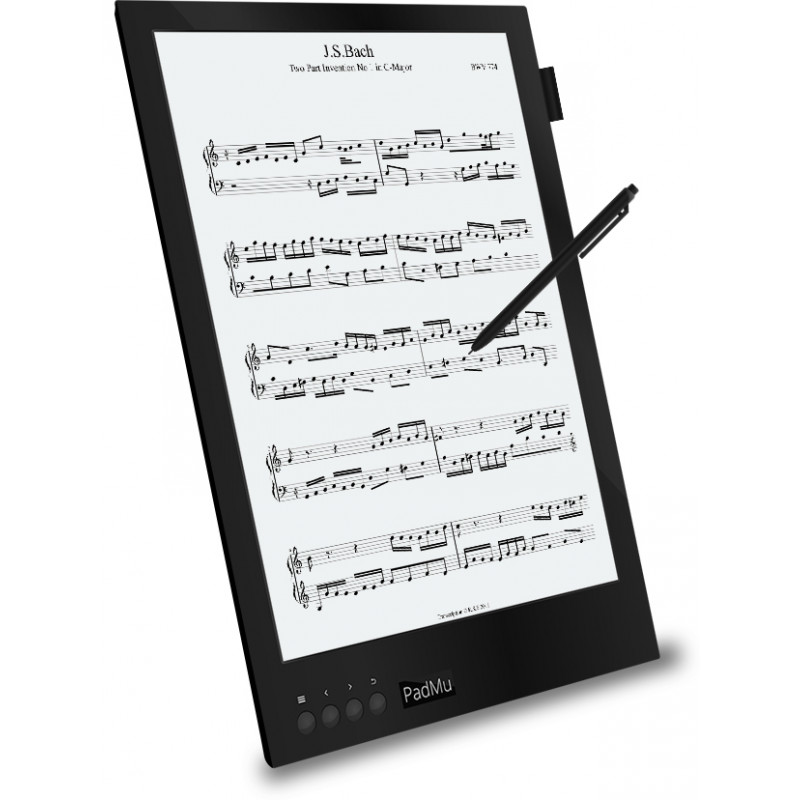  
Frequently bought together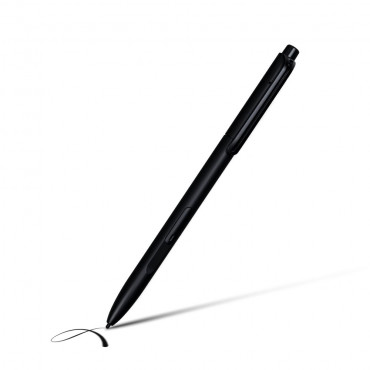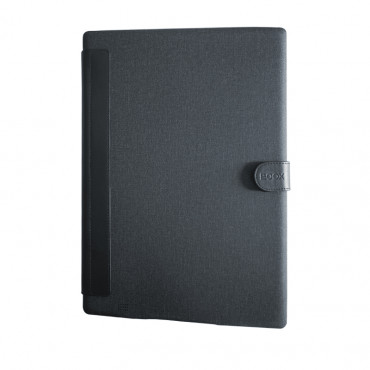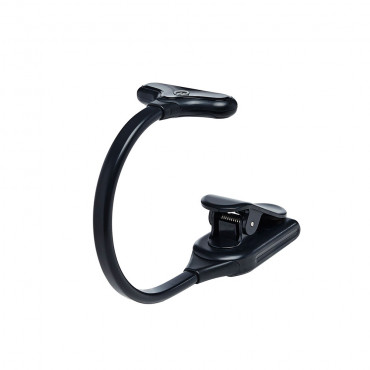 PadMu2 (2x)

Stylus (2x)

Micro USB cable (2x)

HDMI Cable (2x)

Sleeve case (2x)
Your eyes won't be tired after hours of practising
Super light.
Extremely thin
E-ink Mobius™ technology

Touch screen & Stylus

13.3" Display: 2200x1650px

Only 550g (19,4 oz), easy to move around

4100mAh Battery

Quad-core CPU + 2 GB LPDDR3 memory

32 GB EMMC storage

Wi-Fi IEEE 802.11 b/g/n

Bluetooth 4.1 Connection
Display


13.3" High resolution E Ink Mobius™ flexible display, Dual touch technology (finger touch + stylus touch), 16 shades of grey

Resolution

1650×2200 pixel, 207 ppi

Front light

No

Processor

4-core, 1,6 GHz

RAM

2 GB

Internal memory

32 GB

Audio

Stereo output, 3,5 mm Audio Jack, Speaker, Microphone

Wired interface

Micro USB 2.0 - Micro HDMI

Wi-Fi

Wi-Fi IEEE 802.11 b/g/n

Bluetooth

4.1

Battery

4100mAh Li-Polymer battery

Battery life

Up to 2 weeks in standby mode

Operating system

Android 6.0.1

Size


325 × 237 × 7,5 mm

Weight

550 gr

Stylus Pen

Wacom 2048 levels pressure sensitivity, real pen-to-paper experience

Hardware

BOOX Max2 by Onyx International Inc.
Rated
4.25
on the scale
1
-
5
based on
1
customer reviews
Un modo nuovo di lavorare
PRO:<br /> Sono un musicista professionista ed ho acquistato il Padmu 2 incuriosito dalla possibilità di avere sempre a disposizione con me una libreria di partiture in un supporto leggero e maneggevole (sono spesso in viaggio e portare con me anche piccole quantità di partiture, saggi e testi didattici è problematico). In realtà il Padmu ha semplificato il mio lavoro sotto molti altri punti di vista, diventando in breve tempo un supporto indispensabile per la mia attività: mi è possibile lavorare su partiture orchestrali e condividere note (averne tante a disposizione non è mai stato così semplice), annotare le mie idee musicali in modo rapido su un pentagramma, esibirmi come camerista senza necessità di un voltapagine; inoltre il compito di corripetitore in masterclass e concorsi è facilitato dalla disponibilità immediata di una completa libreria. Questi per me i Pro:<br /> - Buona leggibilità (tranne in talune condizioni di luce diretta);<br /> - Pennino sensibile e reattivo;<br /> - Buon sistema di archiviazione e catalogazione;<br /> - Ottima fattura (garanzia Onyx!) e leggerezza; <br /> - Buon supporto e sensibilità del programmatore ai suggerimenti dell'acquirente.<br /> <br /> CONTRO:<br /> - Bisogna avere sempre con se dei supporti laterali di plastica (in dotazione) perché appoggiare il Padmu su leggio comporta lo stand-by, dato che il pulsante di accensione/spegnimento si trova sul lato inferiore. (Mi è stato comunicato che sarà disponibile una cover che ovvierà al problema); <br /> - Il software, pur essendo rapido ed efficiente, non permette uno zoom regolabile (quindi attenzione alla tipologia dei pdf che si caricano) e non offre - ancora? - la possibilità di scrivere note a lato del pdf con modalità Sidenote (funzione invece presente nel software del modello originale Onyx e di enorme utilità);<br /> - non c'è la possibilità di installare app ottimizzate per il device tramite store;<br /> - non è mai possibile acquistare pdf dagli editori online (Henle, Bärenreiter..) senza dotarsi di una loro app per la lettura dei file; ciò comporta la necessità di un estenuante lavoro di scan e import della propria libreria fisica che è il segno di un limite, più che del Padmu in sé stesso, della moderna editoria. Spero che in futuro si creino le condizioni per poter acquistare e consultare direttamente materiale editoriale senza aver installati lettori diversi (tutti al momento compatibili con device Apple, ma non con i moderni E-Ink reader).
| | |
| --- | --- |
| Hardware | |
| Software | |
| Support | |
| Usability | |